This is a mostly Brooke-centric picspam of episode 6.12, "You Have Got to be Kidding Me (Anatomy of the Devil's Brain)." I meant to do the Nathan-Haley-Jamie scenes as well as a few others, but I never actually got around to it. I'm perpetually lazy. :P
It has quotes (if you have an corrections, please let me know) and minimal commentary by me.
As a warning, it's very image heavy. Enjoy.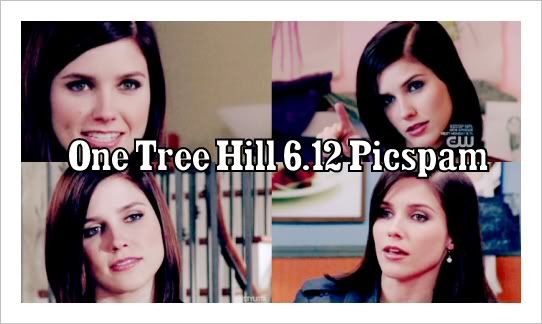 I'm not too fond of the coloring on some of these. I was trying something new, but some of these turned out too blue. Sorry!
Also, I really enjoyed this episode - it's probably one of my favorites of the season. It had lots of Brooke, Nathan trying out for the pros, Haley and Jamie being adorable, Dawson snorting coke (Dixon - whatever, he'll always be Dawson to me), and minimum Lucas and Peyton interaction.


Brooke: Sam, breakfast!
Random Boy: Hi.


Brooke: He spent the night, in your bed, in my house?
Sam: Well, I thought it was about time a guy stayed here.
Brooke: Watch yourself.
Sam: He's my friend, and he lives with his brother, and he just beats on him sometimes, and he needed a place to crash.
Brooke: Okay, does this half-nude, window-fleeing friend have a name?
Sam: Jack Daniels. John - Jack - Daniels.
Brooke: You expect me to believe that a boy named after the white trash rock band drink of chioce spent the night in your bed and nothing happened?
Sam: Dude, I'm like fifteen!
Brooke: Like that matters! When I was fifteen - nevermind. Tell me when someone is staying in my house, and if your "friend" needs a place to crash again, he can sleep on the couch.
I love Sam's reaction to "When I was fifteen - nevermind." I'm actually really like Sam and I'm starting to enjoy her relationship with Brooke.

Sam: Hi, producer guy, right?
Julian: Orphan girl, right? From the concert?
Sam: Sam.
Julian: Julian.
Sam: I know. You can help me.
Julian: Good, you can help me too.
I like Julian, too. I don't know if it's because it's Austin Nichols and I can't hate him and his pretty smile, but whatever it is, I really hope he sticks around.

Julian: Do you want some coffee with that sugar?
Sam: How do you take yours?
Julian: I don't. Never touched the stuff. So, you said I could help you out, how so?

Sam: I was thinking, uh, maybe you could read some of the stuff I wrote.
Julian: Screenwriter?
Sam: I just write things. I get a little pissed off sometimes, you know.
Julian: Tell me about Brooke Davis.
Sam: Dude, I am so not hooking you two up.
Julian: No, no - her clothing line, is she any good?
Sam: Yeah, think you'd be lucky to have her. For the movie, right, that's why you're asking?
Julian: Give me your phone. This is my number, I'm happy to read anything you want to send me.
Sam: You'd do that? I mean, I just kinda heard you were a dick.
Julian: I am, but maybe I'll read something I can steal.
I'm curious why Sam has never approached Lucas if she's so into writing. If anything, he'd be easier for her to talk to, since he's the basketball coach and one of Brooke's closest friends. I suppose this scene was just to facilitate the Julian-is-actually-a-good-guy plot line. I have no complaints - I already like Julian better than Lucas.

Julian: Hey, is she single, Brooke?
Sam: No. Yeah. You know, I'm betting you're actually nice.
Julian: And I'm betting you're not bitter. Keep writing. She's out of your league, my brother.


Julian: Oh wow. Breakfast club - you were the priss.
Brooke: Let me guess, you were the stoner.
Julian: Well if you say so, they end up together.
Brooke: Can I help you?
Julian: You should design the wardrobe for the movie.
Brooke: I'm not a costume designer.
Julian: Well, I can see that.
Brooke: I'm starting a new line.
Julian: Look, let me try this again. You should design the wardrobe for the movie. You were there, it's authentic, it's press worthy, and I would be lucky to have you before the debut of your line, which I'm sure is going to fabulous.



Julian: Sorry. Hello? Yes, this is me. It is too. No, listen, I'm with Brooke right now. No, I'm not going to blow it. I'm not, no I'm not. Sorry, Sam says hi.
Brooke: Sam, my Sam? Why does my Sam have your phone number?
Julian: She has an interest in the film industry.
Brooke: She is fifteen, you pervert.
Julian: Okay, just wrap your head around it. You and the movie, not me and Sam. She's only fifteen, you pervert.



Sam: You were kinda skanky, weren't you?
Brooke: What?
Sam: In high school. You acted all weird this morning because you were totally having sex at fifteen.
Brooke: I was not.
Sam: Were too. Is that where Clothes Over Bros came from? Tired of being the dirty girl? You're a bit of a prude now.
Brooke: First of all, shut it. Second of all, if I've been a little frigid lately, it's probably because I was attacked in my store not long before you moved in, and it's made me a little closed off. Especially with boys.
Sam: Oh my god, Brooke.
Brooke: No, no. But I've been really angry about it and I have a whole other set of issues with Owen and I'm trying to let all go and I just wanted you to know. Because, I just wanted you to know. Okay.

Brooke: And yeah, for the record I was pretty slutty in high school. And I wish I wouldn't have been because you don't get to take any of that back.
Sam: Brooke, I like talking to you.
Brooke: Thanks, Sam, I like talking to you, too.
I really like this - Brooke being able to impart what she's learned since high school to Sam. It also reminds me how much she's changed and grown up since the first season. She makes a great surrogate mom. Or perhaps older sister is the better term?

Brooke: I've thought about and I'm not interested.
Julian: Couldn't you have told me that over the phone?
Brooke: Well that, yeah, but I wanted to say the rest of this I wanted to say your face. I don't trust you, not with Peyton and definitely not with Sam. And that is not going to get you anywhere - that grin. I'm sure it's gotten you in a lot of doors and a lot of beds, but it's not going to do you any good with me.


Julian: Listen Brooke, when I make a movie, I set the bar as high as I possibly can. I put together my wish list cast, my wish list crew, my wish list designer. Sometimes timing works out, the material gets out, and you get lucky. Sometimes you don't. Good luck with everything.



Sam: I should have gone to Jamie's talent show with Brooke.
Jack: You're kidding, right?
Sam: I like them. They're nice to me.
Jack: I think it's funny how you stole from Brooke Davis and called her a bitch, and now you like her.
Sam: I was pissed off. So what?
Jack: What did you say after she caught you shoplifting? You said she was a rich bitch, and someone should put her in her place.
Sam: So?
Jack: You said someone should put her in her place, Sam.



Brooke: What's wrong?
Sam: After you caught me shoplifting, I was with my friends and I said some terrible things about you.
Brooke: It's okay. Sam, what happened?
Sam: Don't, please, just don't. 'Cause didn't mean them, I didn't mean any of it. But -
Brooke: Sam, I'm sorry, but I don't understand.
Sam: The attack. It was my fault.



Julian: Burbon is a good honest drink, you know. Classier than whiskey, less of a stick up its ass than scotch.
Owen: I'm an alcoholic.
Brooke: Owen, has Sam been in here tonight?
Owen: No, why? What's wrong?
Brooke: We had a thing tonight and she left and I let her go and I shouldn't have.
Owen: It's okay. Here, have a seat.
Brooke: No, I have to find her.
Owen: Brooke, come on, she's a teenager. She's not even your teenager.
Brooke: And what is that supposed to mean?

Julian: I'll let you two...
Brooke: Julian, if she calls you...
Julian: Not my problem.

Owen: Look, I just mean it's not like she's going to stay with you forever, right.
Brooke: What is wrong with you? I came here because I need your help.
Owen: But you know Sam, she'll turn up.
Brooke: No, it's different this time, but with you it's exactly the same.
Owen: Brooke, it's not fair.
Brooke: I have to find her, but I'll do it by myself, just like I always do. Don't call me anymore.
Brooke deserves so much better than Owen. He needs to leave for good and go on man!dates with Marshall again on How I Met Your Mother, where I actually like him.



Julian: Thank you.
Brooke: Hey.
Julian: Hey, any luck?
Brooke: No, are you looking for her too?
Julian: I'm not that guy, Brooke. I'm just getting coffee, sorry.

Brooke: Excuse me. I'm looking for someone, um, a young girl who comes in here a lot. She's kinda a skater, sarcastic...
Coffee Girl: Let me guess, her name is Sam and she puts a lot of sugar in her coffee.
Brooke: You've seen her?
Coffee Girl: No, but that cute guy that just left asked me the same exact thing.
Brooke: Thanks.


Does anyone else like Julian a tad bit more after this scene? So he may not be "that guy" but he's at least a better guy than he's portraying himself to be. And he can't be a total and complete dick, otherwise Peyton never would have fallen in love with him - rebound love or not.
closing sequence.




A man of words and not of deeds
Is like a garden full of weeds

And when the weeds begin to grow
It's like a garden full of snow
Okay, I'm going to take a moment to discuss this. I understand Milicent is hurt by Mouth keeping Gigi's picture on his cellphone, and yes, losing her virginity to someone else, like Owen, will hurt Mouth. While the punishment doesn't fit the crime - and hurts Millicent as well, because she'll regret it later - that's not even what bugs me the most about this. Why does it has to be with
Owen
of all people? Owen, as far as Millicent knows, is pursuing Brooke, her closest friend (it seems) who has been nothing but nice and supportive. Why do something that could possibly hurt Brooke too?
And when the snow begins to fall
It's like a bird upon the wall
And when the bird away does fly
It's like an eagle in the sky

And when the sky begins to roar
It's like a lion at the door
So, after Peyton gets off the phone with the doctor, she calls someone, wanting to talk. She's holding a picture of her birth mother and earlier on she was researching cancer. Does she actually have cancer, or is something else going on?

And when the door begins to crack
It's like a stick across your back
And when your back begins to smart
It's like a penknife in your heart


And when your heart begins to bleed
You're dead, and dead, and dead indeed.
And Jack's brother is Quentin's killer and Brooke's attacker. I totally wasn't expecting that.
Thoughts?
Resources:
I got the screencaps from
oth-caps.com
.
Current Mood:
happy